7 Halloween Marketing Campaigns That Spook Engagement
It's the trick or treat season again. Similar to other celebrations throughout the year, brands both big and small take the opportunity to induce celebratory themes into their halloween marketing campaigns. With spine-chilling themes and spooky graphics, the best marketers utilize the halloween season to indulge in creating spooktacularly bad wordplay for their fang-tastic campaigns.
Some would probably feel that occasion-based marketing is not appropriate for their products or services or too fluffy. While it's may be true but that's where the understanding of your audience come in to help adjust the tone of your occasion-based marketing campaigns.
Let's not forget the fact that during such occasion, your audience are more receptive since they are ready and in the mood for fun. A cleverly thought out halloween marketing campaign can inject occasion-relevant excitement in the form of wordplay, puns, visual graphics and audio effects.
Over the years, many brands have crafted spooktacularly good campaigns that still unsettled the world. We share 7 of our favorites, in no particular order.
1. Guinness Shadow Coaster
Probably the most simple and easiest to be implemented. Guinness's shadow coaster demonstrates that sometimes, getting people engaged just required a small effort. Drink coaster are frequently been used by beer lovers to avoid condensation marks on the table and prevent the glass from slipping on smooth surfaces. With little cost, Guinness's ingenious idea add a ghostly festive touch to the beer table. Not to mention that their signature stout is already a ghastly black.
2. Oreo Lab
Oreo is a no stranger to creative marketing campaign. The Oreo Laboratorium is probably the campaign that generate the highest ROI for Oreo since their cookies are easily associated with being inside the trick or treating bag.
The Oreo Laboratorium consisted of short viral video about how a lab would transform oreos into monsters. Oreo proceeded on to utilize user generated content by encouraging their fans to submit ideas for the names of the monsters, and they rewarded those with the best suggested names.
3. SVEDKA Vodka Curse Video
This halloween marketing campaign could possibly be one that all marketers would appreciate. Svedka attracted consumers with online advertisements featuring cocktail recipes. Once these individuals click on the advertisements, they were shown a video declaring that they have been "cursed with hellish ads".
What happens is what marketing professional will appreciate. Svedka used re-targeting to deliver those "hellish ads", ads after ads to the so-called victims and terrify them.
4. Burger King #ScaryClownNight
Very often, we see brands taking a jab at their competitor. Burger King's attempt at doing so make it among the most iconic halloween marketing campaigns by using it's competitor mascot in the campaign. Just take a look at the campaign video and see if you can identify the competitor.
The campaign begins with a 90-second video showing a young man attempting to flee a gang of clowns with one that resembles Ronald McDonalds. The video concludes with the real-life Burger King meetup of scary clowns.
5. Koala Mattress Spot The Spooky
Koala Mattress made it to our iconic list because of their approach to generate halloween engagement. While most brands try to engage you through telling, Koala Mattress's engagement approach is in getting their audience to play a game, that's what we think it is.
Koala Mattress ask their audience to find the spooky elements in an image. Try finding out how many you can spot before scrolling to the end of the article for the answers.
6. Coke vs Pepsi
Coke and Pepsi are well known to be rivals and you must be wondering which made it to the iconic list. Some may say both, but we think Coke made it.
We mentioned earlier that brands often take a jab at their competitor and that's what Pepsi's Belgian ad agency tried with a daring creation. Note the "L" instead of "C" in coca-cola.
While it may not be a official response from Coke but from their fans, the Coke camp's response was even more iconic based on their response to Pepsi.
What is unique in this advertisement is that there are many interpretations on Pepsi's original ad. One of them is by wearing a Coke coat, Pepsi is trying to imply that it want to be like Coke. The debate is endless, but that might be Pepsi's attempt to engage both camp of the cola wars.
7. Chipotle Booritos
The last brand that made it to the iconic list is a famous brand in the United States. Chipotle campaigns varies each year. However, they use the same approach of giving discounts to encourage customers to purchase a burrito and drive social media engagement. On some occasion, they may even turn stores into a halloween party.
You may be wondering why did Chipotle made the list since most other food and beverage chains are doing similar things. Chipotle difference is in their subtle approach to take a jab at their competitors. They do so by highlighting the additives their competitors use that consumers won't find in Chipotle's burritos. Chipotle goes another step further with a video encouraging their customers to dress in a costume with an ingredient that they thing is unnecessary.
Spot The Spooky Answers
Have you manage to find the spooky elements in the Koala Mattresses' image? Find the answers below: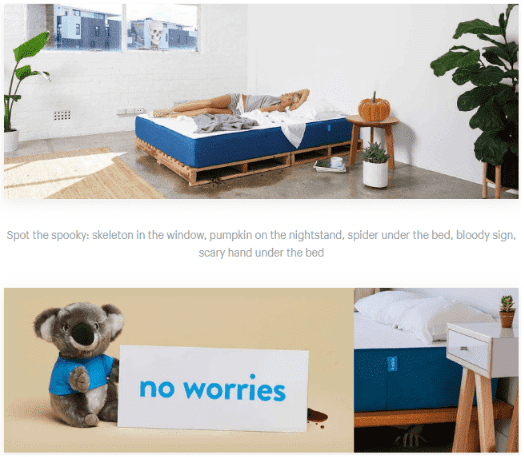 A final Note
It's time to wrap things up and have a wild and crazy halloween! halloween could be a good time to engage in some "fun" or rather ghoulish advertising campaigns. A good digital marketing agency would be able to provide creative suggestions and integrate your campaign across all channels. In fact, MarketingGuru does not play tricks to generate results for our clients campaigns. Feel free to open the door to us and we may in turn give you a treat. Witch-ing you a spook-tacular Halloween!